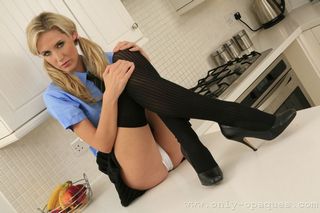 Andrea makes for a rather cute but extremely naughty student in this college uniform. She may look all sweet in the uniform and with pigtails but it's safe to say this busty blonde is looking for trouble. However, how many dean of students can resist a body like that so maybe she'll be able to stay out of punishment.
Andrea gives us peeks at her cotton panties before finally taking off her skirt and uniform. She has an amazing body but you also can't miss her long legs in sexy black holdup stockings.
Visit Only Opaques and see more of this sexy student. I'm sure she'd like to teach you one or two things. Watch as she teases out of her college uniform, I'm certain no class work is getting done today.
I hope everyone enjoys what they do have left of their weekend. I will see you tomorrow.